A Katha of Success
(Metroplus, The Hindu, 4 January, 2007)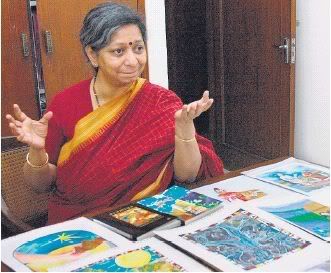 Geeta Dharmarajan on how the publishing house Katha came into being


From children's magazine to literature to social work, Geeta Dharmarajan has been associated with them all. Her belief that good literature is an effective medium for both pleasure and self improvement, led her to establish Katha, which is not just a publishing house but also a non-profit organisation having several social work projects under its wing. Her very first venture was a children magazine Tamasha, which ran successfully for two years, until it had to be shut down owing to her foray into the publishing world. Her love for literature prompted her to set up a full-fledged publishing house, Katha in 1989, exclusively devoted to translating regional Indian writers into English. A clear upshot of this venture has been that the translation of their works into English has enabled several regional writers to get recognition with the larger audience. Her dexterity in management came to the fore when, in the competitive world of fiction publishing, she not only made Katha into a successful business house but also a name to reckon with.
Turning point
"Reading Mouni, the eminent Tamil writer, proved to be a turning point in the establishment of Katha. In fact, his talent struck me so much that it made me consider that there must be other writers like him in various Indian languages. And suddenly it occurred to me how consequential it would be to get their works translated into English," she says.
But in the age of television, Internet and other modes of entertainment how many people care for literature? "Speaking statistically, India never had had a vast legion of readers for literature. But the complexities and strained circumstances of the modern times are driving more and more people towards it. Gradually, it is being realised that fiction books not only provide pleasure but also act as the best form of relaxant. Also the tremendous growth of English in the last few years coupled with the rise in the purchasing power of the middle class have certainly led to the growth of readership. The fact that our first anthology of short stories is into its ninth reprint proves literature is selling," she explains.
Besides literary projects, Geeta took up social work that includes imparting education to underprivileged children living in slums. For this she arranged a mobile school on wheels and is assisted by several teachers who have volunteered themselves for the project. Her inspiration to get engaged in social work comes from her grandmother, whom she had seen work for the welfare of widows in Chennai. Didn't being a housewife hinder her from involving herself in a wide range of activities?
"On the contrary, being a housewife gave me the luxury of leisure, which I utilised to do what I had always wanted to and believed in. Besides, my husband and in-laws were quite supportive in my endeavours," she remarks.
More than a decade ago, when she embarked upon her purpose, little did she imagine that her fledgling institution would soon become a strong team of over 200 people. Elaborating the challenges that confront such projects, she points out, "In community development projects like these, the availability of funds and volunteers matter the most. Unfortunately, the growing indifference of society results in the scarcity of both and more particularly of volunteers. On the other hand, in the West, people volunteer themselves to social causes wholeheartedly. India is a vast country with a vast number of problems. These problems can only be solved if we volunteer ourselves to confront them in our individual capacities."
- ADITYA SHARMA