Katha Chennai's Christmas Workshops
As you know, KATHA is actively involved in popularizing Indian literature and the art of story-telling. We believe in bringing back the joy of listening to a story, to a generation of kids who have grown up on the TV and Internet.
And now, Katha's back with Christmas Workshops, in Chennai!
Katha is now organizing a workshop module for children in the age group of 4 - 8 years, from the 23rd of December, 2006 to the 27th December, 2006. The workshops will have fun-filled sessions with creative activities that are connected to Katha's brilliant and marvelously illustrated stories, activities that make the child think, and expand his or her perceptions. Each session will be for 1 and a 1/2 hours, from 11.30 AM to 1 PM each day. The session will be a combination of story-telling and activities based on/connected to the stories.

The Dates: 23rd December - 27th December 2006

Timings: 11.30 AM - 1 PM.

Age Group: 4 - 8 Years.

We're charging a very nominal fee of Rs. 500 for the entire module.
The last day for registration is 22nd December.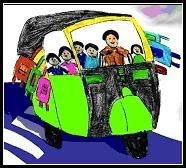 Join us on a merry ride, kids!